First of all- I would like to tell you a little bit about this girl. Her name can be D[di;], Dahlia, or something else that I cant remember :(. She is pretty much an indie artist- not very popular or well heard of. She is into gothic lolita fashion. Her music is fun and unique. Thats all I know, but you should give her a try! Really good music!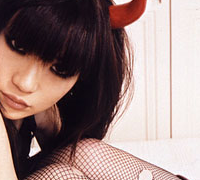 Okay, rules-

1) Respect Dahlia. Delete mp3s after 24 hours
2) Respect us. Comment if you take. Please.



Sensei Snob
Time: 5:36
Rating: 4/5
This is an... interesting song! It first starts out like some trippy cosmic sounding song and then it completely turns on you and its like- woah! Where'd that come from? Yeah, It grows on you.

Scream TEDDY
Time: 3:41
Rating: 5/5
This song is so fun, cute, and loveable! I'm pretty sure it is about her scolding her stuffed animals. This is definatly one of my favorite songs right now! Ps, there is no screaming involved in this song.

Dragonfly
Time: 4:09
Rating: 5/5
After all the funness of Scream TEDDY, you get this dark feeling song. I really, really, really like this song. It just has this -ring- to it. I mean, I had listened to it, like, once- and it was stuck in my head at school. Great song to just sit there and think to. Download this song, people!

Akazukin
Time: 5:22
Rating: 4/5
Wow, this song is really... undescribable. Really strange. At the beginning, its like.. eh... and then it gets faster and it actually gains a sense of rhythm.. and then theres a big pause... and then its... still strange... but a good kind of a strange.

Dahlia, Dahlia, Daliaha Subeteno Hakei
Time: 3:25
Rating: 4/5
Easy listening. Sounds like something from a Asian action movie or something. Yeah, no singing to this one. Just an asian guitar-like thing, a drum machine, and dahlia going "nanananana". Its pretty much a daydreamy-type song.

Riddle
Time: 3:47
Rating: 4/5
The vocals seem really distant in this song. Its kind of weird hearing it that way. Nevertheless, the song rocks hard and kicks butt, so I can't complain. I really do like the beat. It really sounds like she says "you are a booger-eater" somewhere around 2:40. Haha, wonder if she does...

Closefriend
Time: 5:11
Rating: 10/5
This is my absolute favorite D[di;] song! It is great to dance to and it rocks, too. I really don't know how to describe it except for this--- its amazing! I love it! So much!

Aigan Bana
Time: 3:52
Rating: 5/5
I REALLY love love love this song. It rocks my socks off! I can totally headbang to this (not very well, but still...). It's like, each time I listen to it, it gets better and better! Take the "scream" from scream teddy, add it to this- you have the perfect title.


Getsuyobi
Time: 3:45
Rating: 5/5
When I first heard this song, I thought it would just be an interlude. Well. it kind of is- but it is a long interlude. I really like it, though. I especially like the backround vocals on the "sayonara mande" part.

Juggernaut
Time: 6:04
Rating: 4/5
This is a... pretty average song (well, as average as Dahlia can get). It sounds like a song that would play in the backround of a movie when the main character is really mad and wants revenge. It is a pretty decent song, nonetheless.

Syrup
Time: 6:04
Rating: 5/5
Ooo, mystery song. Listen to the song- make up a description. Im really lazy, I know. But you should download it. Because its cool like that.


okay, i kow this wasn't what I promised you- but I will try to get you this asap-

Ayumi Hamasaki- Pride
Psycho le Cemu- Last Emotion
Kana- Papichan, Melon, and Lolita

Ad some Re-ups along with some Aya stuff.